How My Secret Journey From Suicide Survivor To
Karate World Champion Will Now Help Bring Out
The Life Champion In You

Dear Fellow Life Champion,
I could see it in their eyes, as people were looking at us, the surviving family at my mother's funeral. Relatives, friends and strangers were probably thinking, "they've really hit rock bottom now - that's the end of them."

In effect, I was being 'counted out' in terms of achieving any sort of future success and happiness. And in the back of my mind, I wondered if they were right.

But ... I'm getting ahead of myself. My mother's suicide was just the tipping point.
For me, bumps in the road started WAY before my tragedy ...
Small + Asian + Nerdy = Constant Abuse + Racism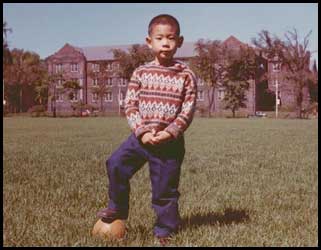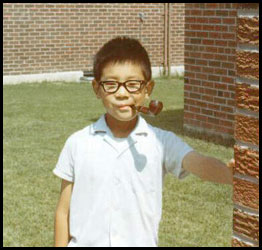 Easy Target For The School Bullies (oh yeah, the pipe was just a prop)

Look at the photos above. That's me when I was a kid - small, Asian and nerdy. This made me an extremely easy target for the school bullies. There wasn't a day that went by at school without being called a 'chink' and being physically threatened. The constant abuse and racism resulted in a very tough childhood.
Home life was not much better with emotionally abusive parents as part of a very dysfunctional family. My brother and I were always ridiculed in front of other relatives as well as family friends. We also had to endure my parents constantly fighting out in the open. No wonder why I chose to spend so much time in my room.

Although I never had to worry about clothing, food or shelter, I was becoming the product of a very unbalanced upbringing with NO confidence or self esteem at all.
Then A Hero Came Into My Life
Then one day in a movie theatre, I saw the late, great Bruce Lee for the very first time. It was the famous scene where he took off his top and beat up all the bad guys in the Japanese karate dojo. I had never seen an Asian man built like him and move like him before. I was totally stunned and blown away by his presence on the screen.

He was the much needed hero that came into my life and changed me forever! From that moment on, my own negative image of myself as well as that of my own culture were erased for good.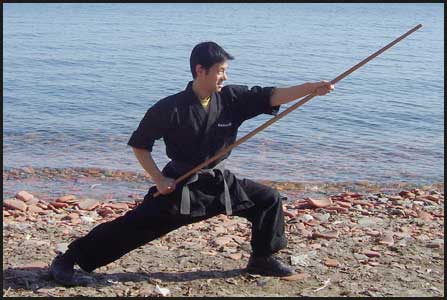 My Own Martial Arts Journey

I suddenly felt a much higher potential for myself. I wanted to be like Bruce Lee. It was because of his influence that I started martial arts and it was through this training that I started my new journey in personal development.
Tragedy Strikes ...

Then in March of 1984, one month before my first semester MBA exams which was the most grueling academic program I've ever taken, my brother called me one morning and told me to come to their place right away. When I got there, I saw my mother lying motionless on her bedroom floor.

A policeman who rushed in soon after, found three empty vials in the bedroom. My mother ended up taking three full vials of sleeping pills to take her own life. This would actually be her second suicide attempt and this time, she was determined to be successful.
My father was sitting on the hallway floor losing it as a fireman was assisting him with an oxygen mask. At that very moment, I knew that my family had hit rock bottom and that life would never be the same again.

Then I Made A Decision That Would Change My Life Forever
However, almost immediately afterwards, I made a decision that would change my life forever. I made a fully committed decision on the spot that I was NEVER to live my life as a victim. In fact, I REFUSED to become a victim.
I was fully determined to continue my personal development in all areas of life to become a Life Champion despite what I went through so far.

Not only did I finish my MBA and have a successful 20 year corporate career, I also became a Master certified (NAUI) scuba diver and a certified (CSIA) ski instructor.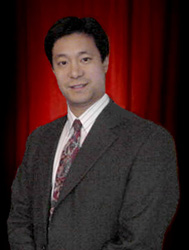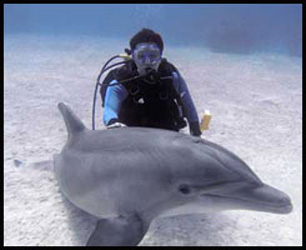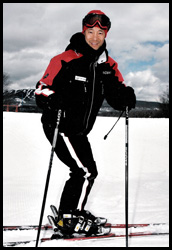 Corporate Executive NAUI Master Scuba Diver CSIA Ski Instructor

But perhaps what I'm known most for is a long successful martial arts competition career that spanned over 23 years which included the privilege of representing the Canadian National Team a few times and becoming a Karate World Champion (15 times).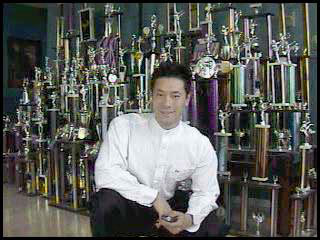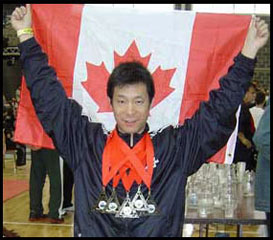 Karate World Champion With Successful Martial Arts Competition Career
So What Does This All Have To Do With You?

So you might be asking the above question which is quite fair. It turns out that despite what I've achieved so far, I'm nothing special. I'm just a regular person who did certain things to become a Life Champion even though I was at rock bottom. I'm living proof that anybody can become a Life Champion as well.

So let's explore how to bring out the Life Champion in YOU to overcome challenges and achieve enormous personal success.
But How Do We Become Life Champions?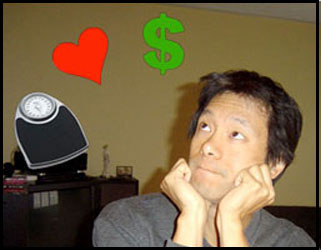 Health, Relationships, Careers/Money


The problem of course is that none of us were ever taught in school exactly HOW to create a life of purpose and passion.

We spend our lives just going through the motions -- instead of living with purpose. We end up like robots or zombies with our usual day in and day out routines that do NOT produce the real satisfaction that we truly desire.

We get caught in traffic jams going to and from unfulfilling work only to come home to piles of chores. We become numb and we get so busy with our responsibilities that we always run out of time for the important things in life.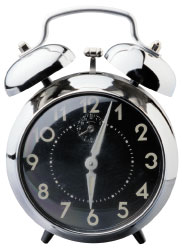 No Time For Important
Things In Life

Without Life Purpose? All Stressed Out? No Motivation?

Some of us don't even know what our life purpose is and even if we do, we've been blown so far off course that living with purpose is a distant dream.

We're stressed out while there are not enough good things that come our way. With recessions, climbing personal debt, job losses, disasters, high divorce rates and crime, many of us are just coping to get by emotionally and/or financially. As a result, our relationships, careers, health and well-being all suffer.
We often cannot get motivated enough to make a difference. We procrastinate and nothing really changes as the years go by.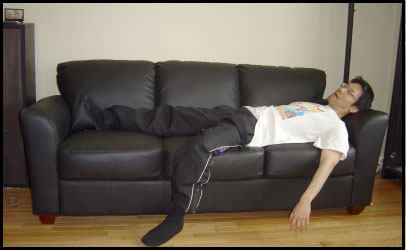 Procrastination? Lack Of Motivation?

We're left with frustration and wonder if it's even possible to have a better life at all. We've become mentally trapped in deep ditches that our minds have created.

I've Been There Just Like You Have

If any of this sounds like you, then I can certainly relate with this feeling. Believe me, I've been there at rock bottom as you already know!

That's Why I Finally Decided To Go Public With My Story
I've since realized that many people in this world are going through lots of the same types of hardships that I went through. I also realized that many could benefit tremenously from the universal lessons from my journey.

So in 2009, twenty five years after my family tragedy, I decided to finally go with my story and document the important principles which made such a huge positive difference in my life. It was no longer fair to keep these motivational secrets to myself!
I wanted to pull back the curtains on the exact changes, mind-shifts and action steps I took to go from tragedy to success as a Life Champion.

I wanted to share these universal lessons with others who could really benefit for their own lives. So the result was, The Life Champion In You.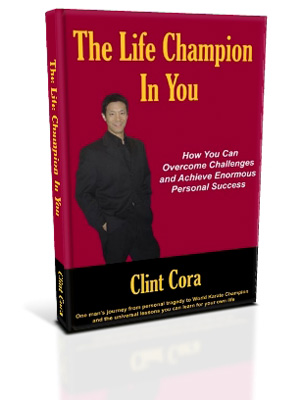 The Life Champion In You
Personal Growth Books
(click graphic for larger image)
See and listen to some readers below on what they thought about The Life Champion In You (also other video clips of readers talking about my motivational books).

--
Reader Comments About My Motivational Books
Filled With Inspirational Stories Of Many Successful People

The Life Champion In You, is not just about my journey from personal tragedy to Karate World Champion, but is filled with inspirational stories from many successful individuals I have come across. You will read about the awesome one-legged skier who defied the odds and skis at a higher level than I do (and I'm already a CSIA Level 2 instructor)!
You will also read about the totally inspirational no-arms mom who will make all stressed out parents' jaws drop from what she's able to do in every day life. There's also the immigrant physiotherapist who built a flourishing clinic business from the ground up as well as the long time animal lover and now successful dog training facility owner who finally went after her life long dream.
One Man's Journey From Personal Tragedy To
Karate World Champion And The Universal Lessons
You Can Learn For Your Own Life
The Life Champion In You outlines the same success strategies and tools that I still use today on a regular basis. Here's what I reveal for you;

Chapters 1 To 4 - CD 1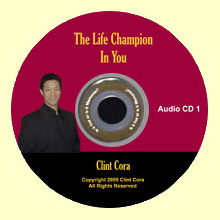 Real life

inspirational successes from normal everyday people proving that

YOU

too can become a

Life Champion
How I turned my own background of racism, serious injuries and personal tragedy into success which gives others

hope

even after low points in life
The

#1 mind-shift

that got me through my own personal tragedy which will significantly propel you to take necessary action to achieve your goals
Why we should

never

make wishes for the things you desire and what you

should do

instead
Micro changes you can make in your life

right now

to bring your closer to achieving your goals

How to increase your effectiveness to handle

any situation

in life better than 85% of the population (and this doesn't depend on IQ either)
How to expand your comfort zones to turn

any goal

into manageable and

achievable

results
Learn why getting out of comfort zones is the

key

to your long term happiness
The hidden lessons underneath

every

life experience to learn from
Incredible stories of amazing individuals like a one-legged skier who will show that

YOU

too have the potential to achieve greatness in yourself
Simple Yet Powerful Insights On Achieving Success

"A no-nonsense, how-to manual for those of us who sometimes need a swift reminder to get going. Drawing from his own personal experiences, Clint gives us simple yet powerful insights on how to plan towards the achievement of success in life. An inspiring read."

Gianluca Berchicci, Morgan Stanley, London, England

See text testimonials from other readers of motivational books
Chapters 5 To 7 - CD 2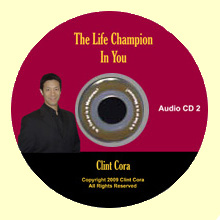 Practical visuals to help you understand how

easy

and

feasible

it is to improve yourself and move you forward


Macro tool to help you identify what you want in life and make your

life purpose

crystal clear
Micro tool to give you a

logical structure

to follow and monitor your progress towards success
Secrets to help you

get through

the ups and downs of life
How to make the best

use of your time

constructively even with a busy lifestyle

How to

overcome procrastination

so that you do not remain stagnant
Personal Growth Book Helped Reader Get Unstuck

"I just finished reading your book! Thank you for it. The most important message I learned from it is your statement, "I will not let circumstances rule my life." It's my new motto. I had a bad circumstance in my life last year, and it utterly consumed everything I did. I felt so stuck. But not anymore. I'm making my goals, as per your model, and will make my dreams come true. I admire your drive in the face of adversity! You're are a fantastic role model Clint. Thank you."

Patricia Ellison, Screenwriter, Whitby, ON

See text testimonials from other reader of personal growth books
Chapter 8 Plus Appendices 1 & 2 - CD 3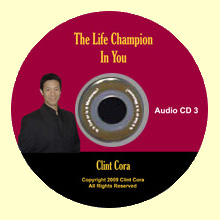 Very easy to read so you can learn

powerful knowledge

fast within a few hours
Additional World Champion tips to boost your

personal growth

as well as your family members

TEN-FOLD
Available in printed softcover, audio CDs or downloadable digital versions to accommodate any learning style you prefer
Read Or Listen To The Foreword From The Life Champion In You

You can read the foreword or even listen to the audio foreword from this ground breaking first of my personal growth books.

--
More Reader Feedback On My Personal Growth Books
Signature Motivational Keynote Based On The Life Champion In You


Award Winning International Motivational Speaker

My signature motivational keynote presentation which you may have already seen parts of in my 3-part
Personal Development Video Series
, is actually based on
The Life Champion In You
. If you thought the video series had some powerful useful messages, wait until you read the book since I could fit a
LOT
more into personal growth books than in keynote speeches.
Stands Apart From Other Motivational Books

"Clint Cora's book, The Life Champion In You, is an example of the resiliency of the human spirit. Using the tragedies of his life, he demonstrates that anyone can rise above their challenges and create a successful life. He offers practical advice to help people achieve their goals and dreams. Clint's book stands apart from other motivational books because of its personal and realistic approach. It is easy to read and written for anyone wanting to put their dreams into action. I would highly recommend this book because it is inspiring and motivating."

Shan Dube, Social Worker, Vancouver, BC

See text testimonials from other readers of personal growth books


Where To Get Personal Growth Books
The Life Champion In You
printed softcover motivational books can be ordered online at
Amazon.com
,
Barnes and Noble
,
Chapters.ca
plus other online retailers (just click one of the retailers below - enter my name Clint Cora in their search box). You can also get them where you usually get other personal growth books at your local bookstore if you bring the ISBN number 978-0-9809190-1-1 and ask them to order in for you.
The Life Champion In You
personal growth books are also available directly from my company, Free Spirit Gallery Publishing, for only $15.97 (shipping is $6 extra and FREE for 2 or more books).
If you prefer listening rather than reading,
The Life Champion In You
also comes in a 4-CD audio set which has
three hours of audio PLUS the digital PDF version
of the book. More information specifically about this version is at
Audio CD Program
. The audio CD set is only $37 and
includes shipping within North America.

Downloadable ebook and audio versions are also available through Clickbank - see the
digital ebook and audio versions
for more details.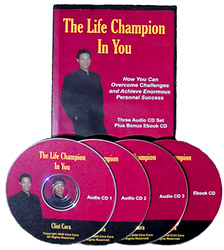 Audio CD Set
Just A Little Something Extra If You Order Now

And here's something extra if you order now - all printed personal growth books and audio CD sets ordered
directly
through my publishing company will be
personally signed by me
.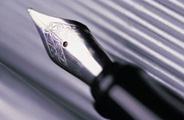 You can order any version of
The Life Champion In You
by clicking on the graphics below which will take you to a secure online shopping cart.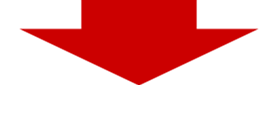 Printed Softcover Book - $15.97
Audio CD Set - $37


Downloadable Ebook - $9.97
Downloadable Audio/Ebook - $27

----------

----------

----------

-----------

My Risk Free 100% Money Back Guarantee

I feel so confident about
The Life Champion In You
in helping you in your personal growth that I assume all the risk.
If you feel that you haven't learned anything useful that puts you on the path towards personal success during the next 60 days after you place your order, return the book or audio CD set in good condition and I'll refund your money back (if you decide to order directly through me - retailers like Amazon of course have their own specific returns policies). In the case of the digital downloadable versions, simply e-mail Clickbank (the online retailer that carries the digital versions) within 60 days and they will promptly refund 100% of your money back.
There is absolutely
NO RISK
to you. I am sure that you will get positive results if you faithfully follow the universal lessons outlined in the book or audio program.

Motivational Books Available For Audiences At Live Events
Both the motivational books and audio CD versions of The Life Champion In You have been extremely popular at my live speaking events. These personal growth books will be ideal for audiences to take home so they get a reference plus continued motivation to achieve their goals after hearing my talks. They also make excellent gifts of positive reading for family members and friends.
Copies of these personal growth books at wholesale bulk prices can be arranged to be made available to all of your audience members as part of a speaking program event.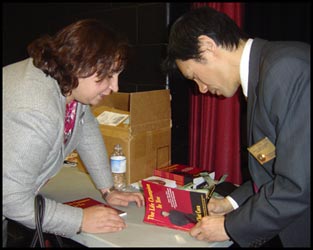 Signing Motivational Books
So go ahead, order your copy of The Life Champion In You by choosing one of the options below and I'll be more than happy to sign your personal copy.

I look forward to sharing the universal lessons I have learned during my journey so that together, we can bring out The Life Champion In You!


Clint Cora - Speaker, Author & Karate World Champion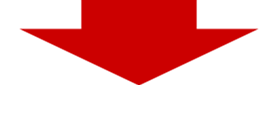 Printed Softcover Book - $15.97
Audio CD Set - $37


Downloadable Ebook - $9.97
Downloadable Audio/Ebook - $27

----------

----------

----------

-----------