Clint Cora Keynote Speaking Testimonials
From Those Who Heard Him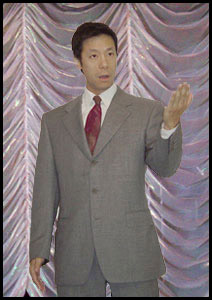 Keynote Speaking Testimonials
Here are just some of the keynote speaking testimonials from those who have heard professional speaker Clint Cora - there are many more on a second page of business motivational speakers feedback. To actually see and hear people who have attended a Clint Cora presentation, see motivation speakers video testimonials. To see available keynotes by Clint, see Speaking Programs. To book Clint as a keynote speaking guest for your next meeting, use the Contact link at the top.
"Clint's presentation was entertaining and motivating from beginning
to end. His energetic delivery, combined with the real life examples
he incorporated, captivated the audience throughout. Clint shared with
us his outlook on life and his approach of striving for excellence through
dedication to a sport or activity and the importance of making the decision
to take the first step."

"He presented personal examples of his journey on the path to mastering
the art of karate. The demonstrations of his smooth but complex maneuvers
not only established his credibility but were also a testament to the full
body harmonization which daily practice and self discipline can generate.
Clint is a very natural and inspiring speaker who is a pleasure to listen to."

Alan Mallory, Adventurer Who Climbed Mt. Everest (2008)
"Clint is able to weave a story, build anticipation, and reveal the climax in
a manner that is both skilled and inspirational. As I watch and listen to
Clint speak I know he has honed and crafted his speaking skills like an
accomplished world class athlete would with excellence and high
expectations. No wonder since Clint is a karate world champion."

"He speaks with great passion and enthusiasm. Clint is a
powerful, confident and excellent motivational speaker."

Angela Bailey, 1984 Olympic Silver Medalist, Lawyer & Motivational Speaker
"It was amazing how I learned within each of us, there is a champion
and in order for us to access the champion within us, we simply need
to expand our horizon. I have had so many tips from this workshop
that I know I'm leaving a better person because there are so many
things that I have learned that I can do to expand my comfort zone."

Hepta Deslandes, Teacher, Lester B. Pearson School Board
"Clint Cora is a dynamic speaker. The success he has garnered in sports
and in business comes through clearly in his content and his delivery of an
address. We have had the pleasure of hearing him on three occasions, and
all three times have been impressed by his passion and commitment to
excellence in the realm of -speaking and leadership. We highly
recommend Clint and are confident his contribution as a speaker will
educate and motivate your listeners in a way that will leave
a lasting positive impression."

Vincent J. Beyer, SNC-Lavalin Group Inc.
"Clint was very dynamic in his presentation and was able to illustrate how
if one embraces diversity in the workplace, that one can actually be more
valuable to an organization. The feedback we got from all our members
was fantastic. We highly recommend that you bring Clint in to talk
to you about the benefits of diversity within your company."

Jim Geraghty, President, Happen.ca
"You amazed us with your motivational speech. Use of props was
very effective. I also thought that you made important points that
were relevant to everyone, irrespective of background or experience.
They were broken down simply and into small steps that everyone
could relate to and apply. We want to put your messages into action."

Leena Milton, Region of Peel, Ontario
"Everyone who attended the meeting agreed that this was one of the
most motivating and uplifting presentations that we have had in
quite some time, and they all left feeling energized and regenerated.
I am sure that all of us will be working on expanding our comfort
zones 10% at a time and we will all be better people because of it."

"We thoroughly enjoyed your contribution to our continuous learning
and would recommend you highly to anyone who needs
direction on motivation and exception living."

Katherine Denton, International Assoc. of Administrative Professionals
"I just wanted to drop a few words regarding your excellent presentation
given today at the City Of Mississauga. I was able to relate to your
comment regarding Asian minorities in today's society as I, myself,
am Chinese Canadian. It's very refreshing to see an individual as
yourself stand up, speak loudly, eloquently, and effectively deliver
a powerful presentation such as today's!"

"Our society's stereotypes do not usually empower and promote Asians
as powerful and motivational icons. However, I believe the work you
are doing is helping to eliminate that stereotype and I give you kudos
in that regards! I look forward to reading your book. Thank you for the
inspirational words and again, I enjoyed attending your presentation!"

David Soo, Transportation & Works, City of Mississauga
"Your presentation 'Kick Down Diversity Barriers For Success'
was extremely well received by our members. It presented a
new aspect in both work and life that had not been spoken
about before. Exceeding expectations, it gave several members
something to think about and something that they had not
thought of adding or emphasizing."

Frances McKenzie, Speakers Coordinator, Happen Executive Networking
"Your presentation was very insightful, informative and highly motivating.
We were moved by your passion, enthusiasm and the interactive
activities by which you were able to engage the group and
keep us focused throughout the session."

Claudette Miller, Manager, Business Services Branch, Ontario Government
"Clint, thank you for being our Keynote Speaker at our Annual General
Meeting in January 2010. Our AGM turnout is very high and it is an
extremely important time of year where we update the membership with
regards to what the Board of Directors have done the past 12 months.
Given the importance of this meeting it is essential that we have an
interesting and stimulating speaker who can hold the audience's attention,
as the AGM tends to be longer than our usual monthly events."
"Your presentation 'Kick Down Diversity Barriers for Business and
Personal Success' was excellent and was very well received. It was a
thought provoking and captivating presentation that provided a fresh
perspective on the subject. Your dynamic delivery spiced by a bit of
humor kept the audience engaged."
"We were impressed by your passion and enthusiasm and found your talk
quite inspirational. We are confident that the audience went home with new
ideas and strategies to develop and apply their diversity skills both at work
and in their personal lives. Once again, thank you very much for your
interesting and enthusiastic presentation."
Kim Voisin, CHRP, President, HR Professional Assoc. of West Toronto

"Thank you very much for an awesome presentation. Everyone in the
audience is still singing your praises! Your motivational presentation
was very timely as our group needed a boost to keep their spirits up.
The practical concepts and props shared are easy to remember and
apply, both professionally and from a personal perspective."

"You are a great motivator and I was captivated by your enthusiasm
and energy. Our people could not help talking about you following
your presentation. Once again, the knowledge, information and
enthusiasm you shared really had an impact on group
and you left them wanting more."

Ray Lim, Director of Regulatory Affairs, Roberts Pharmaceuticals
"We had the pleasure of having Mr. Clint Cora join our Kraft Town Hall
meeting. Clint has shared with us a very inspirational story on expanding
one's comfort zone. The speech was extremely well received by our entire
Customer Supply Chain group. Clint was very inspiring and convincing.
Clint surely did captivate our attention and inspired a lot of us to be better
people. I would highly recommend him to any organization that
is looking for a motivational speaker."

Alice Bran, Customer Supply Chain Team Leader, Kraft Canada
"My name is Markus Witte. I work at the Rundfunk Berlin-Brandenburg
in Germany. Clint gave a great speech with the subject about expanding
your personal comfort zone. He recommended that in order to improve
one's personal skills one should expand one's comfort zone – in which
you feel comfortable – at a rate of 10 % a week. His body language is
excellent, which is not surprising, because he is world champion in karate.
I think, he is able to convince people of this talent on stages
worldwide. He was convincing not only by the content of his
speech but also by his charisma."

Markus Witte, Corporate Lawyer, Rundfunk Berlin-Brandenburg, Germany
"I found Clint's speech very motivational and energizing. His display
of martial arts, and his story about the one-legged skier, masterfully
illustrated the points about how to keep on-track with life goals
and ambitions. I would definitely love to hear more presentations
from this accomplished speaker!"

Donna Butterworth-Popert, KPMG, Toronto
"This motivational speech was incredibly well presented. Clint captured
the attention of the audience immediately and held their attention for
the entire speech. The speech had great structure, was well-paced and
Clint's speaking voice was authoritative, yet pleasant. The message to
expand your comfort zone was easy to relate to. Using examples of
others who have expanded their own comfort zones, and illustrating
how easy it would be to take those small steps necessary to expand
our own comfort zones, left the audience inspired and motivated."

Elaine M. McLean, HJA Brown Education Ctr, Peel District School Board
"Enthusiastic, encouraging, motivating, inspiring, abundance of personal
growth ... these are just some of the words that come to mind when I reflect
on the "Kick Down Diversity Barriers" presentation I attended. Clint has
provided the IAAP Barrie & District chapter with a wonderful session that is
sure to help diversify each of us as individuals and together as a group.
Thank you for leaving us with many great tips that will help us
expand our comfort zone!"

Rachel Renaud, Canadian Forces Health Services Training Centre
"You got the audience involved and your presentation
was very clear. You inspired and motivated us."

Theresa Hawco, President, The Touch 10
"Clint Cora is a true champion of his own life, most importantly he will
inspire you to find the champion in you and awaken the giant
within you. His practical approach to success is very profound and
easy to follow. Terrific speaker, I would encourage everyone to hear
from our life champion, Clint Cora, and you will be the next!"

Steven Wang, Systems Engineer, Honeywell
"A very thoughtful provoking speech with periodic breaks
of humor too! Content and fun makes this great speech."

Rukshana Sarkari, Edward Jones Investments
"I have heard nothing but positive compliments from staff on your
presentation, and everyone was thrilled to receive a copy of your latest
book! Your message is simple, clear, and to the heart. I think everyone
who heard you this morning was moved, challenged and inspired by
your simple message on self-improvement. And you are a living example
that it works!
I will certainly be recommending you to other Directors in
the City should they be looking for a top-flight motivational speaker
!"
Ed de Grosbois, Director of Business Services
Transportation and Works Department, City of Mississauga
"I liked your use of visual aids. The martial arts demonstration was
a great addition to your speech and added emphasis on your points."

Tiffany Chin, Account Mgr, Business Development Bank of Canada

" I loved the very active form of communication - working with
the bo staff (martial arts weapon), image of the ski boot. I liked
the reinforcement of setting goals and breaking them down to
tasks. The change of 10% rule is excellent idea."

Sandra Waldron, Bantrel, Mississauga
"Clint Cora's keynote motivational presentation was excellent and beautifully
delivered. Clint's engaging style as a presenter captured both the hearts
and minds of those in the audience. The content of the presentation was
thought-provoking and encouraging. His dynamic delivery kept everyone
alert and involved. Clint presented his real life experiences with sincerity
and a touch of humour in such a manner that kept me and everyone else
who attended glued to his every word. His ability to deliver his message
in such an entertaining manner was well received by everyone."

Dr. Holly Hampton, PhD, PEng, Division Manager, Carillion Canada Inc.
"From the moment Clint uttered his first word, we were engaged. His
speech on 'challenging yourself' to grow was very inspirational and
topical with the New Year almost upon us. Clint's use of simple examples
made even the most challenging self-improvement seem possible. He
had some inspiring stories to tell. I look forward to hearing him speak again."

Stephen Thoms, KPMG, Toronto
"At the end of the event, we asked our members for feedback on your presentation.
Here is what they said: 'very energetic and clear', 'it kept you interested', 'he spoke
to everyone', 'he made us laugh', 'the presentation was wonderful', 'he got people to participate', 'we learned something new', 'inspiring', 'easy to understand', 'the best speaker ever', 'he knew what he was talking about', 'real'. The members along with
the staff really enjoyed the presentation and we thank you once again for
giving the presentation."
Scott Brooker, Executive Director, Friends & Advocates Peel, Brampton, ON

See many more
additional business motivational speakers testimonials and feedback
from others who have also attended a talk by Clint Cora.
How To Expand Your Comfort Zones To Finally
Conquer Even Your Most Daunting Goals In Life
A Free Live 3-Part Personal Development
Video Series Delivered Directly To You

-
With specially selected parts from high energy live keynote presentations, motivational speaker and Karate World Champion Clint Cora will share with you;



The #1 mind-shift that got me through my own personal tragedy

The hidden lesson underneath EVERY life experience

How to get OUT of your comfort zone and why it's KEY to long term happiness


Three micro-changes you can make in your life right now to IMMEDIATELY
get closer to achieving your goals


Secret surprises that will unexpectedly BOOST your personal growth ten-fold


And much, much more!


Just enter your first name, e-mail and click below so we can send you the link to this free inspiration 3-part Personal Development Video Series - privacy policy (you may unsubscribe anytime). Sign up box also at Free Inspiration Videos.