Your Group Can Have Effective Self Defense
Training From A Karate World Champion
To Keep Them Safe At Home And
When They Are Traveling



Effective Self Defense Training Seminar Classes With
Karate World Champion Clint Cora For Your Group
'Effective Self Defense Training Seminar'
Karate World Champion Clint Cora has extracted the most effective and easiest to learn self defense techniques from his lengthy martial arts background (since early 1970s) to teach students how to escape from common dangerous situations.
Here are some elements he covers in this intensive, information packed

three hour seminar

.
Identify main vital points on the body required for successful self defense

Body weapons plus body mechanics for stronger, more effective techniques

Self defense applications against grabs and chokes


Self defense applications against tackles and arm attacks

Self defense applications while seated and on the ground


Common household items as self defense weapons

Personal security measures to take at home and during travel

Proper attitude and important elements of self defense

Note - Clint can also make his other speaking programs available in addition to this Effective Self Defense training seminar for your event
.


Contact Clint Cora For Booking Information

To explore the possibility of having Clint Cora run his Effective Self Defense training seminar for your group, send an e-mail to contact (at) clintcora.com - replacing the (at) of course or call us at 905-814-5763.

Note that participants in this self defense seminar must be at least 16 years of age or older.
Break Free Out Of Any Dangerous Situations

"I took Clint's self defense seminar class. It was very easy, practical … simple to follow. Basically Clint showed us key techniques to break free out of any dangerous situations we might encounter in any day to day aspect."

"We had partners and he made it fun. We were able to practise the moves with our partners so we really got to practise the techniques. I suggest this seminar to everybody, gender - male, female, weight, size ... it's doable, it's easy and it's very effective. I think everybody should learn self defense just for safety purposes, building confidence and self esteem for yourself."

Helen G., Mississauga, ON
--
Effective Self Defense Training Seminar Feedback

So Simple Yet Effective

"Taking part in this very practical course was fun. More important was how I felt when the women who were doing the self-defence moves they learned as I 'attacked' them (during partner drills). I felt, as an attacker, totally shocked what the women could have done with what they did with their hands, elbows and knees to defend themselves."

"I would not want to be a real attacker falling victim to the moves that Clint taught these women. These moves are so simple yet effective."

John Yuen, Toronto, ON
Clint can also make his Effective Self Defense instruction video DVD program available for your seminar participants as home reference material so they will not forget what they have learned in class. The seminar is very intensive in terms of information and this video DVD will ensure that they will always have the self defense knowledge available to review and refresh their memories.
-----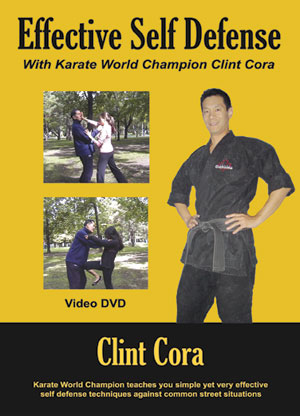 Effective Self Defense Instruction Video

Was Realistic And Meant for The Average Person

"Clint came out on a cool November Saturday to High Park to share tips and techniques for self-defense with our outdoors group. Around 20 members participated. He covered all the body's vital points that can be struck so as to daze the opponent. He demonstrated how we can use kicks, chops, head butts and more. We had ample time to practice. The stuff we were taught was realistic and meant for the average person who does not have any martial arts training."

"We had fun and at the same time, we learned many ways to be 'empowered' in the event that we get caught in a 'bad' situation. A very informative session. Thank you, Clint!."

Kathleen R., Toronto, ON
How Your Group Can Get This Effective Self Defense
Training Seminar For Free!
If you organization is willing to make a reasonable charitable donation to your local women's shelter or related charity approved in advance by Clint Cora,

he is willing to waive his seminar training fee

(any travel related costs of course should still be applicable). Teaching self defense is Clint Cora's way of giving back to the community. Talk to him about this opportunity to benefit both your group members as well as your community.





Clint Cora Speaking Out On Violence Against Women
And His Offer To Help

Practical Self Defense Techniques Anyone Can Use

"He covers things like pointing out vital points and using all available 'body weapons' and how to apply them properly, i.e., hand techniques for striking vital points above the waist and kicks for striking vital points below the waist. Although there are many ways to escape attacks, these are some of the more practical techniques anyone can use regardless of experience or non experience in martial arts.

Grecel N., Mississauga, ON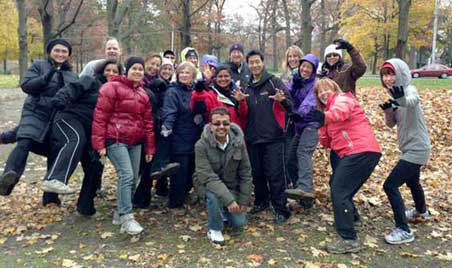 Another Satisfied Group Very Happy With
The Effective Self Defense Training Seminar

Again, to explore how you can bring Clint Cora in to conduct his Effective Self Defense training seminar for your group,
send an e-mail to
contact (at) clintcora.com
- replacing the (at) of course or call us at
905-814-5763
.
Good For Any Type Of Situation That You Are In

"I took Clint's self defense seminar and I thought it was really practical. I learned lots of self defense moves that are good for any kind of situation that you are in when you are walking the streets or whatever you're doing if somebody comes to attack you. They're very easy and good to use… I learned some good kicks and strikes from it. I thought it was very useful and easy to follow. I recommend Clint's seminar."

Leah A., Mississauga, ON