More Testimonials and Feedback For
Business Motivational Speaker Clint Cora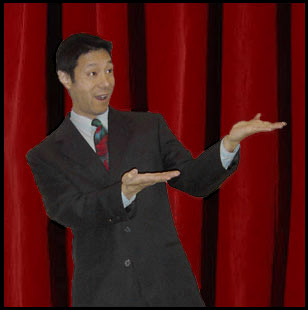 Business Motivational Speakers Feedback
Here are more testimonials and feedback from those who have heard business motivational speakers and specifically Clint Cora - see the first page of keynote speaking testimonials too. To actually see and hear people who have attended one of his talks, see motivation speakers video testimonials. To see available what is available by Clint, see Speaking Programs.
"Clint Cora is a dynamic and engaging keynote speaker. His presentation
on Kicking Down Diversity Barriers is absolutely relavent and timely in
our changing world and workplace. He shares interesting information in a
format that both educates and entertains.
I would highly recommend
him to any individual or organization looking to increase their
knowledge of and skills in dealing with diversity in their personal
and professional lives.
Gaining a more focused understanding of what
diversity is and how it impacts us is knowledge that we can continually use
to improve our relationships with those around us."
"What I gained from this particular program is the knowledge that I too
have diversity skills, something I had not previously understood about
myself. With this newfound knowledge I feel better equipped to enhance
my personal and working relationships. It's wonderful to learn something
new in general but to learn a little more about oneself is invaluable!
Thank you on both counts Mr. Cora!"
Val Posthumus, Past President IAAP Horseshoe Falls, St. Catherines, ON
"This was a wonderful keynote speech. The speech not only
inspired us to be life champions, but also told us how to do it."

Marcus Huang, Office of the Corporate Chief Technology Officer (Ontario)
"Clint is an engaging speaker; he injected humour and wisdom into his session.
Clint shared real life examples to help us to identify stereotypes and see the
absurdity that can result when stereotypes are followed. Clint showed us that
there is beauty in everyone, and he reminded us that some of the world's
most successful people have broken diversity barriers to achieve successful
careers as renowned athletes, actors, and politicians."

"Our members understand that embracing diversity is good for business. Clint
showed us that we are truly privileged to have a diverse talent pool. We can
recruit and develop individuals from amongst the best talent the world has to
offer! At the close of our dinner meeting, Clint taught us a basic karate move,
it was difficult at first, but with a bit of practice it became much more natural.
Clint reminded us that embracing diversity can become a natural part of
who we are and what we do - with practice we can get even better!"

Marsha Sulewski, Prof. Development Director, Hamilton HR Assoc. of Ontario
"I wanted to thank you again for your excellent presentation Monday
evening. You did an outstanding job on getting our attention and
holding it for the entire talk. Everybody enjoyed it and I believe your
message hit home with and will inspire some of our people to push out
of their comfort zones and broaden their horizons and accomplishments."

"Clint, you have a valuable message, presented in a dramatic and
interesting way. I hope you are able to spread it to as many people
as possible and particularly to our young people. Keep up your
excellent work! Should I ever have the opportunity to recommend you
and your presentation to others, rest assured that I will."

Doug McLeod, Dundee Securities Corporation, Burlington, Ontario
"I attended one of Clint's workshops and I find it very inspirational because
of all the things that he went through in his life.
I'm becoming the life
champion in me. I'm finding out the things that I need to do to
become that person."
Andrea Petch, Financial Controller, Toronto
"Clint is a very inspirational speaker. He has the skill to use the right
balance of personal experience and humour to engage the audience and
add credibility. His wide accomplishments inspire and challenge you to do
better. I particularly enjoy how he involves the audience by posing questions
and inviting them to participate. He has a natural ability to make you feel
comfortable. I particularly enjoyed his talk on diversity, as there were some
areas I had not considered.
I liked the fact he also provided some
examples of how we can use these differences to enhance
our business relationships."
Kathy Boyle, Branch Manager, Scotiabank
"I would have to say that it was one of the best motivational speeches that
I have heard in a long time.
It was so well put together, so easy to follow
that anyone can follow it.
Set your goals, try to improve yourself 10%
everyday and all goals can be achievable if you follow Clint's plan."
Irving Smith, Fashion Designer, Montreal
"I'm a suicide survivor and I found that his understanding of what depression
can do in someone's life, the need to actually decide and set goals, and that
it's possible to set goals, to overcome that was very meaningful.
I found his
presentation to be exciting, enthusiastic and filled with a heart-felt caring
for those in his audience.
I strongly recommend listening to him, buying his
book and following his steps to conquering and finding out who the champion
is within you"
Janice McDonald, Certified BodyTalk Practitioner, Brantford, Ontario
"He really connected with me. There were lessons in there that I thought
were absolutely universal and spoke to me. Clint really delivers this with
passion, he really gets that message through, he gets inside you and he
really lets you know that he's thinking about you and he has a lesson for you.
A well delivered keynote like this is really meaningful."
Joe Vanderkooi, Nuclear Engineer, Ontario Hydro, Toronto
"I really enjoyed Clint's presentation, very dynamic,
really works on
involving the audience, lots of fun to listen to,
really energetic and
of course, very motivating. I'm going to be writing down my goals and
making myself a little bit more accountable than I have been"
Natalie Darbyson, Marketing Specialist, Novartis Canada, Montreal
"It's very inspiring, very motivating. We should take the benefit of someone
coming forth with their personal experience to help others.
I hope many of
us can take advantage and take Clint as a role model to help him
help our lives."
Renu Arenja, Financial Professional, BMO Bank, Mississauga, Ontario
"I really enjoyed your book as well as your speech. I think you are a gifted
motivational speaker. From other people that attended your session,
we all agreed that you were the best speaker of the conference.
You have a powerful and inspiring message to share to people."
Simon Li, Brand Strategist, Toronto, Ontario
"You were like a breath of fresh air. It is so hard to find interesting speakers,
and I must admit that the speaker we had last month nearly put us all to sleep."

"We may be a group of seniors, but we are a very active, congenial group that
want to stay that way. You gave us inspiration! You made us realize that
we are not too old to have goals. You made us think about our lives and
how we can make them better. It is always helpful to hear someone else's
story and how they overcame adversity. You are living proof that you can
grow from adversity and end up having a good life or even a great life."

"I liked the fact that if you are trying to accomplish something, all you have
to do is give 10% more effort. If you keep that up eventually you will get
where you want to be. Thank you again for coming out and inspiring us all
to become better people."

Barbara Saunders, 1st VP, Probus Club Mississauga Centre
"It was very evident throughout that you are a very energetic speaker
who puts forward his ideas with a great deal of passion and verve. You
certainly captivated us, particularly with the story of the amputee skier
and your speculation of what his journey must have been like to get to the
point of being able to ski down double black diamond runs. You expertly
used this story as the basis for inspiring us to move out of comfort
zones to achieve our goals."

"Your own personal experiences only served to enhance your speech
and to bridge the main aspects of our story. We all found your martial arts
display to be very entertaining and were very impressed with how it tied into
the body of your speech. Your use of visuals and spoken word certainly
clarified the intent of your message, that being that self improvement
doesn't happen all at once but in small increments."

"Overall, we found your speech to be very inspirational. Since you spoke
to our group, a number of our team members have been motivated
to apply your teachings in both their personal and professional lives.
You are an excellent motivational level speaker and would
highly recommend you to other organizations."

Alan Parisi, Customer Service Account Manager, Nortel Networks
"The presentation really motivated me, made me feel stronger
in my goals now. Thank you so much."

Michael Wei, Student, TAIE Institute, Toronto
"Clint never fails to amaze his audience. In last Saturday's event with Clint
as a keynote inspirational speaker, the participants expressed never
ending appreciation for giving them hope amidst the challenges of
living. In between Clint's talk, you could hear expression of amazement,
their aha moments. Clint's presentation is very organized. He uses simple
words to explain his point. Clint's message is profound. There is a
life champion in each of us."

Aurora Rodulfa, Social Worker, Toronto
"This is a very informative talk that I attended. Motivating our students
is a constant concern in our profession and I picked up a lot of
pointers from Clint this evening."

Dr. Wai Tung Ng, Engineering Professor, University of Toronto
"It was interesting, something different from before. Uplifting
and motivational ... Clint's speech motivates me to take
action, do it now."

Christopher Imecs, Manager, Employment Services, Toronto
""Clint Cora recently addressed our group on how to 'Kick Down Diversity
Barriers'. I had read about workplace diversity, however Clint presented
this topic in a brand new way. This allowed me to approach this subject
from a totally different perspective. Through a practical group exercise,
Clint made us aware that we are all diverse in some way, despite our
ethnicity or background. Discovering common ground, whether it's on
a personal or business level, is what needs to be accomplished."

"Clint has a warm and honest approach to making diversity a positive
issue. Drawing much from his personal experience, Clint presents this topic
in a light and positive manner. On behalf of the Toronto Chapter of the
International Association of Administrative Professionals, I greatly thank
Clint Cora for sharing his unique perspective on diversity."

Marilyn Barton, President Toronto Chapter, IAAP
"This speech reminded me that there are so many important
things to do. It was amazing, a really motivated speech."

Feng Shi, Student, TAIE Institute, Toronto
"The motivational speech given by Clint Cora was exceptional. His speech
was sincere, full of energy and was both entertaining and informative.
The message, to reach your full potential one step at a time, was
easy to remember and apply - and will have positive implications
in our personal and professional lives. Thank you Clint, for an
inspiring presentation."

David Lam, Systems Engineer, Honeywell Aerospace, Mississauga
"His message is clear: If he was able to overcome adversity and become
a Life Champion, so can you. Get this book and you will awaken the
Life Champion in you! His keynote based on his book is equally impressive.
I saw such a high level of sincerity, warmth, vocal variety, good gestures,
and speech content that I soon realized all the effort he had put into
becoming a motivational speaker had come to fruition. If you're
looking for an inspiring and entertaining speaker, whether for a
keynote or something else, then I highly recommend you
consider Clint Cora."

Prakash Kabe, PMP, Project Manager, Mississauga, ON



"The action video part was very special. I liked how he
let everyone join in during his speech. I learned
how to achieve my goals step by step."

Junqian Zhang, Student, Imperial College, Toronto
"Not too long ago, I met Clint Cora, World Karate Champion, writer and
speaker, in a seminar. As I heard his speech, I realized his teaching was
amazing. I really enjoyed the way Clint inspired the audience with so
much wisdom and down-to-earth tips and ideas. I immediately bought his
book 'The Life Champion In You' where he teaches us how to overcome
challenges and achieve enormous success. I could not stop reading his
book until the end. I actually finished reading it the same day."

"His expanding the comfort zone technique, quotes and real life stories
have helped me to understand my life better and as I applied his ideas,
I realized they work really well. The technique of expanding the comfort
zone really works. Thank you Clint for sharing your wisdom."

Enrique Romero, Real Estate Broker, Sutton Group, Mississauga
"Our Probus club thoroughly enjoyed your presentation. There cerainly
were no sleepers during your talk. We had many positive comments after
you left us. Judging from the number of people that purchased your book
(The Life Champion In You) , the message that you delivered was one
they wanted to pass on to their children and/or grandchildren.
Thank you again for a wonderful presentation, it was very enlightening."

Harold Coker, Speaker Co-ordinator, Probus Club Scarborough Centre
How To Expand Your Comfort Zones To Finally
Conquer Even Your Most Daunting Goals In Life
A Free Live 3-Part Personal Development
Video Series Delivered Directly To You

-
With specially selected parts from high energy live keynote presentations, motivational speaker and Karate World Champion Clint Cora will share with you;



The #1 mind-shift that got me through my own personal tragedy

The hidden lesson underneath EVERY life experience

How to get OUT of your comfort zone and why it's KEY to long term happiness


Three micro-changes you can make in your life right now to IMMEDIATELY
get closer to achieving your goals


Secret surprises that will unexpectedly BOOST your personal growth ten-fold


And much, much more!


Just enter your first name, e-mail and click below so we can send you the link to this free inspiration 3-part Personal Development Video Series - privacy policy (you may unsubscribe anytime). Sign up box also at Free Inspiration Videos.