About Professional Motivational Keynote Speaker
Author Karate World Champion Clint Cora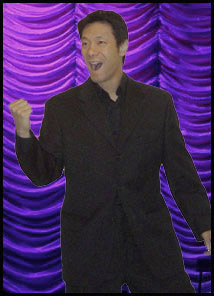 Professional motivational keynote speaker and author Clint Cora's life so far has been fascinating to say the very least. During his early years growing up in Toronto, Canada, he had to endure racism and emotional abuse. But these were nothing compared to the personal tragedy of his mother's suicide. Despite these enormous hardships, Clint weathered the storms of adversity and went on to become a Karate World Champion while having a successful corporate career.
Based on his unique journey, Clint Cora is certainly somebody who knows about motivation and how to use it to become successful. He has been at rock bottom and not only has he survived, but he rose to the top. And now his mission is to help others overcome challenges and achieve success. Clint's strategies for success and his motivational messages will help your group whether it's a corporation, association, college, university or youth audience, rise to the top as well - see Clint's Speaking Programs.
Professional Background Before Becoming Motivational Keynote Speaker
After graduating with a MBA degree, Clint worked in the pharmaceutical industry as a drug sales representative. He progressed through different executive positions including sales trainer, product marketing manager and national sales manager leading an elite hospital team across the country. Throughout his entire corporate career since 1985, he has worked in very diverse environments with people from a wide cultural and regional mix. In additional to being a visible minority, his professional life has always been rich in diversity which makes Clint an expert in this area in addition to sales and marketing.

After a twenty year corporate career, Clint wrote a book called How To Get A Dream Job In Pharmaceutical Sales - Direct Inside Advice and Guidance From a Sales Manager to help others start a pharmaceutical sales career. He also reviewed his life experiences including both successes and adversities he faced. The result was another book, The Life Champion In You, which his signature motivational keynote is based on.
An Award Winning International Motivational Keynote Speaker
Since becoming a professional motivational keynote speaker, he now motivates audiences everywhere with his captivating keynote speeches, seminars, books and CDs. He has thrilled audiences at meetings and conferences in the USA, Canada, UK, Europe and the Caribbean. Clint Cora is not just a motivational, business or diversity speaker who happens to be a world champion athlete, but also one who is a proven, successful business executive who can accommodate the needs of your particular audience, whether it's a professional or school group.
Athletic Background

Being a self-professed ultimate geek as a child, Clint Cora was not born a natural athlete. However, this didn't stop him from eventually having countless successes in martial arts competitions including winning Canadian and World championships.

Clint was also a proud member of a few Canadian National Karate teams that competed internationally. In fact, he has had such a long competitive career in martial arts, an entirely separate section is devoted to it - see Clint Cora's Sports Motivational Martial Arts Background.

See the Martial Arts Videos section for videos of Clint performing martial arts. One of the unique aspects of Clint's talks is that he includes martial arts elements to demonstrate key messages. This results in a very entertaining presentation for your audience.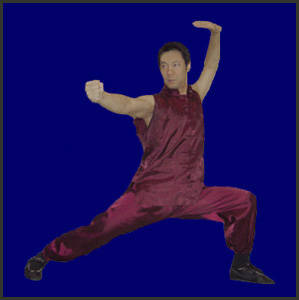 As a self defense instructor, Clint has taught hundreds and hundreds of students over the years. He continues to teach his self defense training seminar and also has a video program called Effective Self Defense With Karate World Champion Clint Cora.

In addition to martial arts, Clint is a CSIA Level 2 certified ski instructor who taught with the world famous Snow Eagles Ski School in Quebec. He is also a NAUI Master Diver certified scuba diver who has dived all over the world and has had exciting close encounters with dolphins, rays as well as sharks.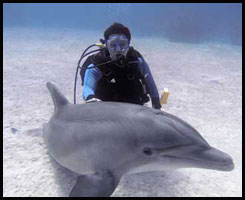 ---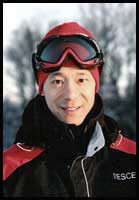 Clint Cora practises what he preaches as a motivational keynote speaker and author since he utilizes the same success strategies to take on challenges from a variety of fields. Audiences learn these same methods of achieving success as those that Clint uses on a regular basis.

Other Interesting Facts

A musician since childhood, Clint plays the piano, guitar and fronted rock bands during his teen to university years - see Clint showcasing his musical skills including his guitar versions of the Canadian national anthem and the US national anthem at his rock guitarist webpage. While attending university, he was a model in a campus calendar called Men of McMaster. He also had a key role as a stage actor in the live theatrical play, 13th Knight.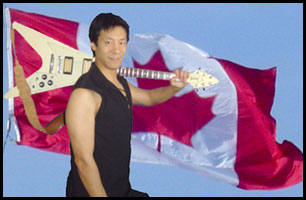 Before Clint Cora became a professional speaker, he achieved DTM, the highest award at Toastmasters International. In fact, he was profiled in Toastmaster magazine that is circulated to 260,000 members in over 113 countries worldwide.
Clint is also an active real estate investor and has produced a free 3-part video series called 'The Sensible Way To Financial Freedom'.

Born in Toronto, Canada, Clint has lived in Vancouver, Winnipeg and Montreal. He is currently based in Mississauga near Toronto and lives with his Lhasa Apso dogs, who were models in yet another book and video series he authored on dog training.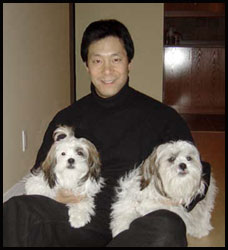 How To Expand Your Comfort Zones To Finally
Conquer Even Your Most Daunting Goals In Life
A Free Live 3-Part Personal Development
Video Series Delivered Directly To You

-
With specially selected parts from high energy live keynote presentations, motivational speaker and Karate World Champion Clint Cora will share with you;



The #1 mind-shift that got me through my own personal tragedy

The hidden lesson underneath EVERY life experience

How to get OUT of your comfort zone and why it's KEY to long term happiness


Three micro-changes you can make in your life right now to IMMEDIATELY
get closer to achieving your goals


Secret surprises that will unexpectedly BOOST your personal growth ten-fold


And much, much more!


Just enter your first name, e-mail and click below so we can send you the link to this free inspiration 3-part Personal Development Video Series - privacy policy (you may unsubscribe anytime). Sign up box also at Free Inspiration Videos.